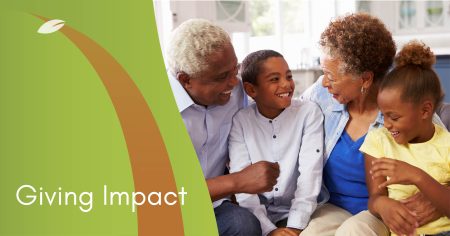 The memory of a life well-lived has the power to leave a positive legacy and improves future generations with a lasting impact. Giving in perpetuity is an immeasurable way to make the world move in a more hopeful direction long after you are gone. The Community Foundation of South Lake relies on individuals, corporations, or families to build legacies and impact the community long-term. Leaving a legacy gift with us expands giving opportunities, adds value to philanthropy, and creates consistency in giving. Learn more about the benefits of legacy giving and how to make a lasting impact below.
What is a legacy gift?
A legacy gift is a planned future gift that designates some part of an individual's estate as a donation. It allows individuals to create a powerful philanthropic legacy by directly impacting the causes important to them. Giving in perpetuity means a constant stream of cash flow from income earned on the initial investment. In perpetuity is a type of annuity that could have no end to the payments. Legacy gifts, in many instances, can provide long-term, sustained giving to important issues and opportunities for increased impact.

Benefits 
A legacy gift is a final gift of love, and everlasting help to your community or cause. Because the gift is in perpetuity, the benefits to the organization or fund you choose to support are infinite. Not only are you benefiting others, but there are fiscal benefits to the donor too! Tax benefits by way of tax credits can reduce the burden on you or your loved one by reducing capital gains tax. To learn more about tax benefits, contact our team of experts today.
Aside from tax incentives, other benefits the Community Foundation of South Lake provides are:
Flexibility: Donors may create funds in any name & for any charitable purpose.
Connectivity: Donors stay connected to their gift, their family and their favorite charities.
Personalized Service: Knowledgeable, professional staff provide prompt attention to donor needs.
Community Information: The Foundation is a resource for donors about local non-profit organizations and community needs.
Investment Expertise: Experienced board and committee members, and financial advisors oversee investments and relieve donors of that burden.
Low Cost: Combining individual funds, keeps administrative and investment costs low.
Reliability: The Foundation has a record of reliability and dependability.
Simplicity: A fund is established with one governing document that takes less than one hour to prepare.
Recognition: Donors can honor or memorialize a loved one in perpetuity.
Privacy: Donors can give anonymously through the Foundation.
Legacy: Donors can build lasting testaments to their names, their families and causes they care about.
Impact Assessment: combined donor grant-making with CFSLC community investment
Foundation Verse Non-Profit 
What sets these organizations apart is where they derive their financial support and how funds are managed. Foundations are in place with the intent for the fund to exist in perpetuity, and your charitable giving can continue with the foundation's existence. Donations to a non-profit are made for immediate funding use and often have a time limit to the impact.
The chart below explains in more detail the differences between a foundation and a non-profit.

Fund Types
Community Foundation has over 20 existing funds, each with a specific focus and purpose. For a description of current funds, click here. Of course, we are always looking to expand our outreach and impact in the community, if you don't see a fund that meets your philanthropic goals, we would be happy to create a custom fund for you.
Community Foundation of South Lake needs financial assistance from people like you to continue approving compassionate acts of kindness in our community. By making a bequest, you can continue to help funds that are making a better community for your children and grandchildren. It is a final chance to reveal your heart and share what you value; it is the last testament of who you are. For more information, visit our CFSLC Legacy Society – Community Foundation Of South Lake website or call us at (352) 394-3818.