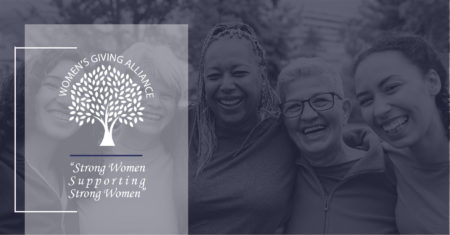 The Community Foundation of South Lake advocates for collaboration to make a collective impact in our community. One of the ways that we achieve this is through our Women's Giving Alliance giving circle. The Women's Giving Alliance currently has 50+ members and has gifted over $182,140 in community grants since 2014.
Purpose
The WGA, founded in 2014, was established to improve the lives of women and children throughout the South Lake community. We accomplish this through empowering women to be strategic philanthropists through collective giving. We understand that when you invest in women and children that you lift the whole community.
How it Works
The WGA is committed to building relationships, philanthropic education, and giving with content. The combination of these efforts results in a positive impact for both the members and the community.
Relationships: We build lifelong relationships with one another as members, with women in the community, and the women and children of the programs we support. Many of our members give of their time in addition to monetary contributions. Our members are intentional about building relationships to earn trust and make a difference.
Education: The WGA empowers women through education by staying informed about community needs. We are dedicated to addressing the community's needs with empathy and a solution-driven mindset. In addition, we share this knowledge with our network to grow our impact.
Monetary Contributions: Each member of the Women's Giving Alliance contributes $1,000 annually. The membership fee's distribution is 70% directly to grantmaking, 20% to the endowment, and 10% to operations and administration. We also have a Legacy Membership where members contribute $25,000 to the endowment fund, establishing a lifetime membership. The legacy membership contributions can be made in a lump sum or annual installments of $5,000. The collective monetary commitments from our members creates a forever impact in our community.
Impact
The Women's Giving Alliance has been making an impact since the year of its inception. Our efforts have impacted many causes focusing on women's mental health, homelessness, food security, and education. Our most recent grant was $27,982 awarded to Find, Feed, & Restore for programming to provide shelter for homeless families and provide services that assist them on the road to financial stability.
Our members look forward to our annual grants that will positively impact the community forever. If you are interested in joining us in our mission to make a difference, contact us at 352-394-3818 or visit us here.
2150 Oakley Seaver Drive
Clermont, FL 34711
Some photos appear courtesy of Credit City of Groveland.
© 2023 Community Foundation of South Lake County. All Rights Reserved. CFLSC is a 501(c)(3) EIN 59-3343026. Website by GeekITDown.