Community Foundation Staff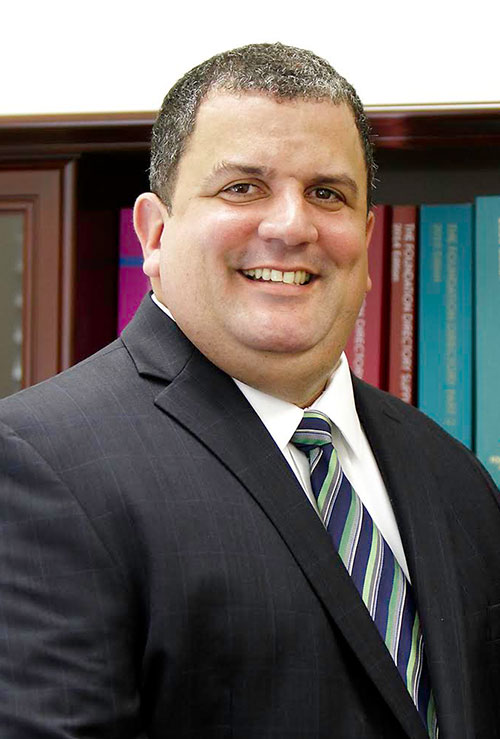 Michael David Herrera
Executive Director
Michael David Herrera joined the Community Foundation of South Lake as its Executive Director in April 2016. Originally from New York City, Michael has also lived in Western NY and has made Florida his home since 2004. He has been engaged in non-profit work for over twenty years and has previously held leadership positions with local non-profits in Western NY and the Tampa Bay region. He has served on various boards and enjoys helping his community. He is a graduate of St. John Fisher College (Rochester, NY) with a BA in Political Science and is currently completing a Masters in Organization Leadership at Medaille College (Buffalo, NY). He and his wife Shannon have four lovely daughters and are delighted to make the South Lake community their home.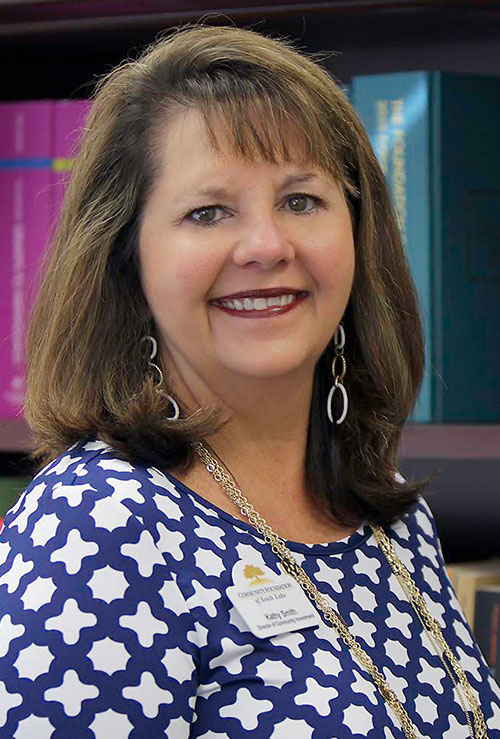 Kathy Smith
Director of Donor Relations
Kathy Smith has been with the Community Foundation since 2013 and involved with development for over twelve years in the West Orange and South Lake communities. Kathy played an integral role in developing a new campus for a private school in the area. After successfully completing the campus, she was invited to join the Community Foundation with a new role working with donors to connect their passions with the needs in the South Lake community. Before moving into the development field, Kathy was a professor at Valencia College for many years. She has a Bachelor's degree from University of Missouri-Kansas City and an MBA from the Florida Institute of Technology. Kathy lives in Winter Garden with her husband and has two adult children.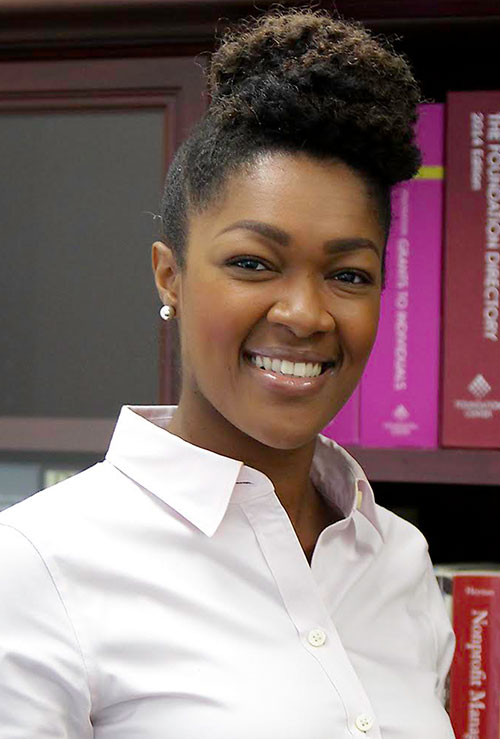 Brittany Timmons
Director of Community Strategies and Initiatives
Brittany is from Eustis, Florida and moved to the Orlando area. She majored in Social Work with a Certificate in Substance Abuse from the University of Central Florida. She is currently continuing her education at Rollins College to obtain a Certificate in Non-Profit Management. Passionate about the well-being of children and families, Brittany began her career at Big Brothers Big Sisters of Central Florida, where she spent over 7 years specializing in mentor and program management. She joined the Community Foundation of South Lake team in September 2015 to serve as the DREAM Coordinator, and has recently assumed the role of Director of Community Strategies and Initiatives. Brittany resides in Orlando with her husband and four beautiful children. Her divine purpose and passion is to help youth and families thrive.
Community Foundation Board Members
Lance Sewell, President
Lance Sewell hails from Southaven, Mississippi and completed his Bachelors Degree in Business Administration-Accounting as well as Masters of Accountancy from Belmont University. Upon completion of his Masters, Mr. Sewell was employed by Arthur Andersen LLP in Nashville, TN. After a four-year stint at Andersen, Mr. Sewell has held positions in hospital finance with both Health Management Associates and Ardent Health Services.
Read More
Mr. Sewell relocated to Clermont in April 2006 to become Director of Finance at South Lake Hospital. He was promoted to Chief Financial Officer in October 2007 where he has successfully assisted the organization in obtaining $52.3 million for its tower expansion as well as refunding $34.3 million of previously-issued debt. In addition, he has played a vital part in the acquisition of the Hospital's surgery center, outpatient center and other campus assets as well as assisting with the startup of its endoscopy center and satellite rehabilitation facility. Mr. Sewell is a Certified Public Accountant licensed by the State of Tennessee, Board member for the South Lake Chamber of Commerce, a former member of the Rotary Club of South Lake, Treasurer of Magnolia Pointe Custom Homeowners' Association and a 2010 graduate of Leadership Lake County. He is active with the Clermont Coyotes baseball organization and enjoys spending time with his wife (Jodi), daughter (Evie), and son (Isaac).
Rocco (Rocky) DeStefano, Past President
Rocky is the owner/operator of Chick-fil-A in Clermont, FL. He has worked for the company since 1984, when he started as a part-time high school employee. He acquired his B.S. Degree in Political Science and Psychology from Berry College in Northwest Georgia. After law school, he was offered and accepted his current position with Chick-fil-A.
Read More
Rocky currently serves as Chairman on the Board of Directors, Executive/Fiscal Committee, Nominating, Governance, and Personnel of the Community Foundation of South Lake, Co-Chair of New Beginnings, and an active member of the Church at South Lake. He is married to Tricia, and has three daughters, Ashley, Maddison, and Abigail.
John Moore
John Moore has been with Orlando Health since 1997. He has served in various roles, beginning as Corporate Director of Orthopedic Services and then as Administrator of Community Services, before moving to South Lake Hospital. At South Lake Hospital, he served as Administrator of Campus and Business Development and Chief Operating Officer prior to being named Chief Executive Officer in 201 1 and then President in 2012.
Read More
Moore is a Fellow in the American College of Healthcare Executives. Prior to Orlando Health, Moore was the Program Administrator of Sports Medicine in the Department of Orthopedics for Chandler Medical Center at the University of Kentucky, Lexington. Moore has led the development of the South Lake Hospital campus, including various facilities and additions, and most recently the planning and construction of a $63 million addition to the hospital. During his tenure at South Lake Hospital, he has focused on strategic planning, operations, medical staff development and physician relations.
Moore is very involved in the local and regional business community and serves on numerous community boards. He previously served as the Orlando Health representative on the initial Lake Nona YMCA Board of Managers, was appointed by Governor Bush to serve on the Florida Sports Foundation Board of Directors, served on the Board of Directors for the Central Florida Sports Commission and on the Workforce Central Florida Board of Directors following Governor Scott's revamping of that Board, and served on the CEO Search Committee which selected the current CEO. He has been actively involved in the South Lake Chamber of Commerce serving in various roles, including Chair of the Board. He currently serves as Chair of the Cornerstone Hospice Board of Directors which provides governance for the seven county hospices serving Lake, Orange, Osceola, Sumter, Polk, Highlands and Hardee counties. He was recently appointed as Chair of the Health Purchasing Alliance Board of Directors. He is a member of the Lake EMS Board of Directors and serves as the Orlando Health representative to the Community Foundation of South Lake Board of Directors; he most recently served on the Executive Director Selection Committee. Moore and his wife Marcia are members of the First United Methodist Church of Clermont, where he has previously chaired the Staff-Parish Relations Committee and the Building Committee. Marcia and John are the proud parents of Madelyn and Ryan.
Timothee Sallin
Timothee Sallin is President of Cherry Lake Tree Farm and LegacyScapes. Timothee is responsible for guiding the implementation of strategy and providing executive leadership to the company operations. He is passionate about connecting with leaders in the landscape, construction, design and planning industries in order to build beautiful, functional and sustainable landscapes.
Read More
Cherry Lake Tree Farm and LegacyScapes are members of the holding company IMG Enterprises Inc. IMG Enterprises has operations in Citrus, Real Estate and Mitigation Banking in addition to Ornamental Plants and Landscape Construction. With over 500 employees, the company ranks 4th on the Orlando Business Journal list of Family Businesses and 29th on the list of Top Private Companies. Cherry Lake Tree Farm was named one of the Top 100 Companies for Working Families by the Orlando Sentinel and won the 2013 Employees' Choice Award. The mission of IMG Enterprises is to contribute to the health and quality of life of people by providing beautiful, functional and sustainable landscapes, as well as nutritious and great tasting fruit produced with respect for the environment. Timothee is a graduate of New College of the University of South Florida, where he earned a joint degree in Economics and International Studies. Timothee is also a graduate of the University of Florida's Wedgworth Leadership Institute for Agriculture and Natural Resources.
Wade Boyette, J.D.,
Was born in Estill, South Carolina in 1967, and has lived in Lake County since 1994 where he has made his mark with a strong transactional law practice. Mr. Boyette was responsible for organizing many of the local businesses as the area grew, and has participated with many local charitable and nonprofit organizations. Prior to moving to Lake County, Mr. Boyette practiced tax accounting in the Big Six accounting firm Coopers and Lybrand in Jacksonville, Florida.
Read More
Mr. Boyette graduated from Georgia Southern University in 1989 with a B.S. Degree in Accounting; from Mercer University with a J.D. Degree in 1992; and from University of Florida with a Masters in Taxation in 1993. He is an active member of The Florida Bar and the Lake County Bar Association, and is a member of The Georgia Bar Association. Currently, Mr. Boyette is focusing primarily on Real Estate Law, Bankruptcy and Foreclosure defense, as well as Probate, Estate Planning, and Corporate/Business Law.
James Burks
James has served the agriculture and irrigation industries for 30+ years. Currently he is the President of Senninger Irrigation, Inc., a product development and manufacturing company in Clermont, FL. He received his BS degree in Agriculture (Agri-business Management) from the University of Nebraska – Lincoln. James is very involved in the South Lake community. He currently serves as a Board of Director for The Groundwater Foundation (Lincoln, NE), and of New Beginnings of Central Florida (Clermont, FL). He and his wife Shauna have two children, Kristin and Matthew.
Becky Elswick
Becky Elswick joined the South Lake community in January 1994 with her husband, Shannon, and sons, Aaron, Scott, and Drew. Becky took an active role in south Lake County schools – volunteering in classrooms, teacher appreciation events, booster programs and in various Parent/Teacher organizations and School Advisory Councils while her children completed their primary & secondary educations. In 2002, she was elected to serve a 4 year term on the Lake County School Board.
Read More
During her school board tenure, Becky established a fund at the Community Foundation of South Lake to support encouragement of parent & community participation in public education. Seeing the importance of having an appointed vs. elected superintendent of Lake County Schools, Becky and Shannon chose to champion that successful campaign in 2006 rather than pursue re-election for Becky. Becky began volunteering as a Guardian ad Litem as she completed her school board term. After 8 years of service as a Guardian ad Litem Volunteer, Becky joined the staff of the Lake County Guardian ad Litem office in January 2014. She currently serves the 5th Judicial Circuit Guardian ad Litem Program as the Circuit trainer, training 150+ new volunteers in the circuit annually. In her role she facilitates in-service training opportunities to increase the effectiveness of volunteers who are appointed by a circuit court judge to advocate for children sheltered from their parents because of abuse, neglect, or abandonment. Becky is a founding member of the Women's Giving Alliance and serves on their grant committee. Serving on the Lake County School Board and as a Guardian ad Litem in Lake County has given Becky a broad perspective of the needs of children and families in our community.
Larry Rescoe
Larry retired from Michigan and left his thriving company, LOR Manufacturing, to their two daughters and their husbands. LOR Manufacturing is a leader in industrial systems integration and famous for the strongest permanent magnets. LOR works collaboratively with large corporations such as John Deere, Ford, Caterpillar, and Cummins. LOR products and engineers are often featured on the Discovery Channel's hit show, Mythbusters.
Read More
Larry describes himself as an inventor primarily, and a manufacturer secondly. He can fix pretty much anything. Although he left his business behind years ago, Larry has not slowed down. He works part-time for the State of Florida as a Park Ranger and Fireman at Lake Louisa State Park. He has also worked on numerous projects for Walt Disney World and Universal Studios, such as the redesign of the Jaws ride and the design of the Spiderman ride at Islands of Adventure. Larry is actively involved in the South Lake Community and is a fund holder and avid supporter of Community Foundation of South Lake. He is an instrumental member of the Lions Club, Clermont Garden Club Hibiscus Circle, the Lake Symphony, Food Providers Group of Lake County, and the Clermont Historical Society. Larry was involved in building the World War II Museum at the Historical Village in downtown Clermont. Being a veteran, this project is close to Larry's heart. He served our country from 1962-1965 as a communications specialist for Army Intelligence and the National Security Agency.
Doni Keene, President of Keene Creative Ideas
Bio coming soon!
Sonya Montgomery, CEO of the Desoto Group (CFSLC Development Committee Chair)
Bio coming soon!
Michael Bucher, United Southern Bank (CFSLC Fiscal Committee Chair)
Bio coming soon!
Doni Keene, President of Keene Creative Ideas
Bio coming soon!
Sandy Simmonds, Watson Realty Group
Bio coming soon!
Michael Spartz, Certified Financial Planner
Bio coming soon!
Jim Hamilton, Senior VP of Amerigas Corp (retired)
Bio coming soon!
Lindsay Holt, Esq., Mclin Burnsed
Bio coming soon!
Dr. Reginald Riley, Orlando Health
Bio coming soon!