Giving For An Impact In South Lake
Planned & Legacy Giving Meeting The Needs In Our Community
Professional Advisors
Learn more about planned giving towards the Community Foundation to meet your clients' legacy goals.
Give Through Us
Learn more about how you can help, types and advantages of funds, and more.
Agenda For Impact
Our Community Foundation gives back to your community through various impactful programs.
WHERE: Bella Collina WHEN: April 5th TIME: 11:30a-1:30p
Read More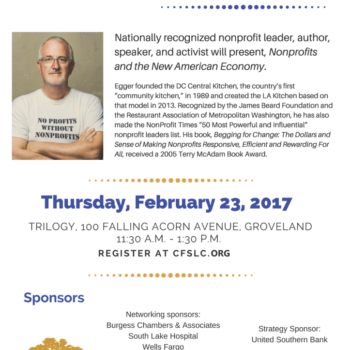 Robert Egger will be sharing important information about nonprofits and the new American economy. Whether you are from a nonprofit organization, a board member or a donor, you don't want to miss this special presentation and lunch. The Community Foundation of South Lake will also be presenting the annual philanthropy awards for: Outstanding Philanthropist for…
Read More
OUR MISSION
Our mission is to provide leadership to enhance the quality of life in South Lake County by identifying community needs and seeking philanthropic support as permanent funding to meet those needs.